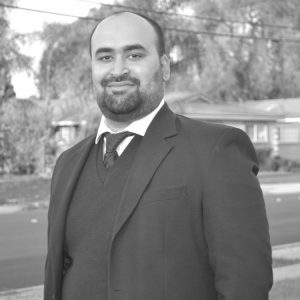 Ali Zahid Sabzwari joined the American Visa LawGroup in March of 2016 as a legal assistant intern and assumed the role on a permanent basis in August that same year. He assists in various types of immigration matters such as adjustment of status, naturalization, family sponsorship and employment based petitions. He particularly enjoys tackling extraordinary cases which stray from the routine and present new challenges and opportunities to learn and further develop his understanding of immigration law and policy. Before joining the firm he worked as a junior attorney in Pakistan, his practice was predominantly in family law and property related matters.  He also worked as a Project Coordinator at a telecom product and services company based in Berkeley California. There he gained valuable experience in resource management and client interaction. He graduated from Santa Clara University with an LLM (Master of Laws) degree in United States Law. His undergraduate studies were completed at The International Islamic University in Islamabad, Pakistan where he was awarded an LLB honors (Bachelor of Laws) degree.
Ali was born in Rawalpindi, Pakistan and immigrated to the U.S. with his family before his second birthday. He grew up in the Greater Seattle area. He speaks English, Urdu/Hindi, Punjabi, Arabic and Farsi.
Ali spends most of his free time at home in Fremont with his wife and daughter. Besides spending time with family, he enjoys nature, his mother's cooking and casually riding his bicycle as far as he can. The farthest he has ventured from home is 30 miles south to the Westfield Oakridge mall in San Jose.
Education
Master of Laws, Santa Clara University
Languages Spoken
English, Urdu/Hindi, Punjabi, Arabic and Farsi